Aviation Bear, Pilot Bear, Fighter Pilot Bear, Vintage Pilot Bear, Aviator Bear T-Shirt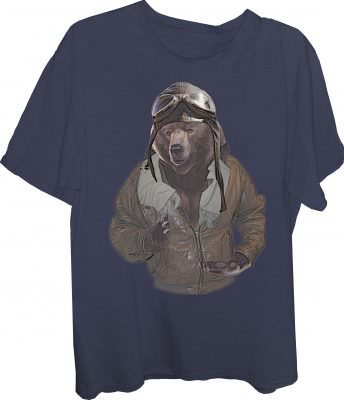 Behrbones Clothing delivers one-of-a-kind novelty apparel that highlights many passions, including flying with our aviation bear and pilot bear t-shirt. Dr. Behrbones love for bears is captured in every design that incorporates a memory, hobby, or passion of the Behr family and our aviator bear t-shirt is no different. If you have someone who likes airplanes or flying, our fighter pilot bear and vintage pilot bear will make the perfect gift.
The Behrbones Clothing collection offers over 120 designs that are super comfortable with a classic fit. The aviator bear t-shirt is excellent for any age and is great for work, play or leisure. If you can appreciate the humor captured in the creative design of the aviation bear, pilot bear, fighter pilot bear, and vintage pilot bear, this will be a fantastic addition to your closet. The image captures a bear wearing a leather bomber jacket along with a vintage leather pilot's cap.
Behrbones Clothing enjoys creating memorable gifts for those you love and who can relate to the humor captured in our unique aviator bear t-shirt design. When you want the right gift for a flying or aviation fanatic, then our aviation bear, pilot bear, fighter pilot bear, or vintage pilot bear t-shirt is a wonderful option. This design is also available in a long-sleeve, sweatshirt, zip-up, or pullover hoodie upon request.
Click here to view this t-shirt design.