Bear Football Player Bear T-Shirt For Disappointed Football Fans And Players, For Tired Football Players, For Injured Football Players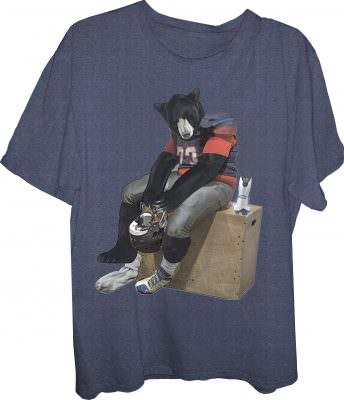 As a family owned and operated company Behrbones Clothing offers uniquely creative novelty wear that highlights your favorite moments, memories, passions, and hobbies. Our Renaissance bear t-shirts and warrior bear t-shirt make the ideal gift for medieval renaissance, fantasy knight enthusiasts and warrior fans. Our fantasy bear t-shirts and medieval bear t-shirts were created by Behr family members who like all things fantasy, medieval and renaissance.
Any fan of football knows that you win some, but you also lose some. At Behrbones Clothing our bear football player bear t-shirt was created for disappointed football fans and players, for tired football players, or for injured football players. Founder Dr. Behr grew up in Northern Illinois and is a long time Chicago Bears fan. This shirt is dedicated to the committed at heart to supporting and pursuing the win even during a disappointing loss.
At Behrbones Clothing we commit to using quality materials and ensuring a shirt that fits every passion, hobby, and memory. This one is for all the disappointed football fans and players, for tired football players, and for injured football players who need a little rest and maybe a lot of ice. Our bear football player bear t-shirt is available in a variety of apparel options including long sleeve, sweatshirt, zip up or a pullover hoodie upon request.
Click here to view all of our football bear t-shirt designs.