Funny/Fun Bear T-Shirts For Mother's Day, And Unique Gift Ideas For Your Wife On Anniversaries, Birthdays, And Christmas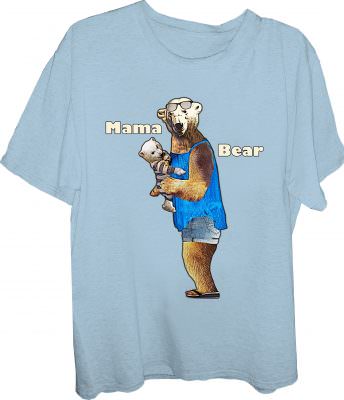 Are you looking for a memorable way to celebrate that special woman in your life? Whether it's a Mother's Day, birthday, or Christmas gift Behrbones Clothing offers a unique gift that shows your respect and appreciation with the "Mama Bear" funny bear t-shirt. It captures a unique pose of a mama polar bear wearing comfy clothes and flip-flops while holding her polar bear cub. To all the women who make being a mom look easy, this is the gift that fits perfectly.
Behrbones Clothing is a family-owned and operated company that has taken its passion for bringing awareness to endangered species to a new level by creating one-of-a-kind images, including the "Mama Bear" t-shirt, but we have many funny bear t-shirts that would make great Mother's Day, and unique gift ideas for your wife on Anniversaries, Birthdays, and Christmas. Make your next gift the best gift with Behrbones Clothing.
The "Mama Bear" t-shirt is dedicated to Founder Dr. Behr's mother and inspired by his daughter. Behrbones Clothing allows our funny bear t-shirts to represent the things we love and have a passion for. This Mother's Day, choose the gift that will make a great addition to her closet along with being a unique gift idea for your wife on Anniversaries, Birthdays, and Christmas. This design is also available in long sleeves, sweatshirts, and zip-up or pullover hoodies upon request.
Click Here to view all of our holiday t-shirt designs. You may also be interested in our cooking t-shirt designs, exercise t-shirts, or gardening t-shirts.