Midwest Turtles Climbing T-Shirt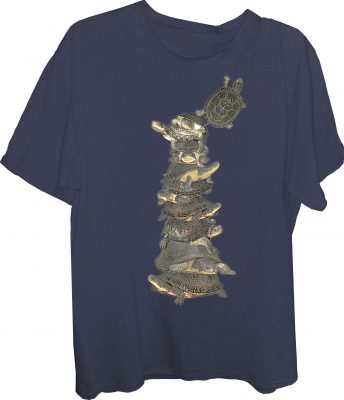 Behrbones Clothing offers 13 designs dedicated to the protection and survival of the endangered Blanding's Turtle for all our nature lovers and protectors of endangered species. Our fun turtles climbing t-shirt displays the Blanding's turtles climbing on top of each other to get closer to your heart. Our turtles climbing t-shirt is the perfect gift for any Midwest turtle tortoise or terrapin enthusiast.
Behrbones Clothing is a family-owned and operated company that has put its passion for awareness into the adorable turtles climbing t-shirt. We are fortunate to have several turtle species in the Midwest, which includes the Blanding's turtle. Our goal is to help stop the population decline of this species through awareness. All of our turtles climbing t-shirts are made with high-quality material with sharp imagery.
Behrbones Clothing does have a copyright and trademark, so join us in protecting, promoting, and providing awareness with the original turtles climbing t-shirt. We also have over 120 designs in our Behrbones Clothing collection so that you can find the perfect fit for your lifestyle and passion. We also have long sleeve turtles climbing t-shirts available upon request, along with hoodies and sweatshirts.
Click Here to view all of our turtle t-shirt designs.