University of Maryland Terrapins (College Park, Maryland) Teeter Totter T-shirts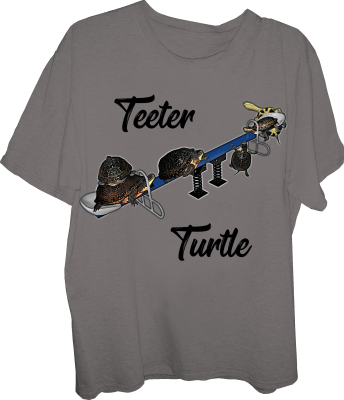 Behrbones Clothing offers 13 designs dedicated to protecting the endangered Blanding's turtle's survival and are perfect for every nature lover and protector of endangered species. Our fun teeter tooter t-shirt displays the Blanding's playfully teeter-tottering. Our teeter-totter t-shirt is the perfect gift for any University of Maryland Terrapins turtle tortoise or terrapin enthusiast. Whether it is for you or someone else, we know it will be the perfect addition to any closet.
Behrbones Clothing is a family-owned and operated company with a passion for protecting endangered species and expresses it through this adorable teeter-totter t-shirt. We want to offer this unique collection to any fan of the University of Maryland Terrapins in College Park, Maryland. Our goal is to bring awareness to the population decline of the Blanding turtle with our adorable teeter-totter t-shirts made with high-quality material with sharp imagery.
Behrbones Clothing is copyrighted and trademarked. As the original, we protect, promote, and provide awareness with these unique teeter-totter t-shirts. We also have over 120 designs in our Behrbones Clothing collection so that you can find the perfect fit for your lifestyle and enthusiasm. We also have long sleeve teeter-totter t-shirts available upon request, along with hoodies and sweatshirts.
Click Here to to view all of our turtle t-shirt designs.