Mamma/Mama Bear T-Shirt With Picture Of A Bear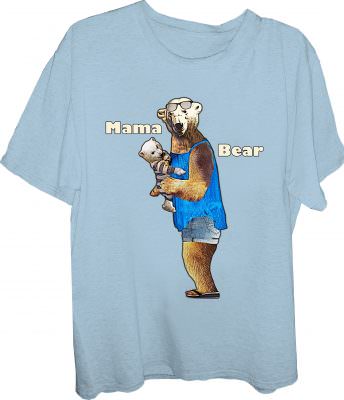 Do you have a mom or a wife that can be described as a mamma bear? If so, Behrbones Clothing offers a unique gift that shows your respect and appreciation for her comfort and protection with our mama bear t-shirt. It captures a striking pose of a mama polar bear wearing comfy clothes and flip-flops while holding her polar bear cub close to her heart. The mamma bear t-shirt is for all the moms who make being a mom look so cool.
Behrbones Clothing is a family-owned and operated company that has merged its passion for endangered species and family for a one-of-a-kind collection of some of the most memorable moments and people. The mama bear t-shirt is dedicated to founder Dr. Behr's mother and inspired by his daughter. The mamma bear t-shirt is the perfect gift for your wife, sister, mother, or special woman dedicated to being the best mom.
The mama bear t-shirt is an awesome novelty gift that will be a perfect fit for any mom on the go. Behrbones Clothing uses the softest and most durable materials giving you all-day comfort that works with any lifestyle. Whether it is a special day or an ordinary day, the gift of the mamma bear t-shirt is sure to make it memorable. This design is also available in long sleeves, sweatshirts, and zip-up or pullover hoodies upon request.
Click Here to view this t-shirt design.