State of Confusion, Disorder, Upside-Down, Sloppy But Funny Topsy Turvy T-shirts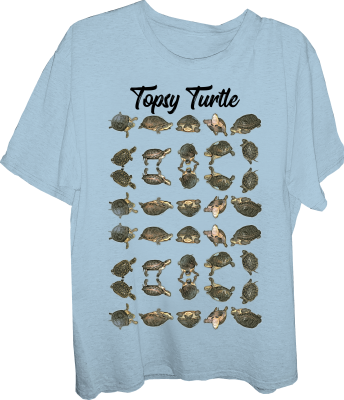 Are you looking for a unique novelty gift for the person in your life that operates from a state of confusion, disorder, upside-down, sloppy but funny way of doing things? If so, Behrbones Clothing offers our topsy turvy t-shirts designs dedicated to the appreciation of every crazy moment in one's life. There are over 120 creative designs covering a wide range of hobbies, jobs, and passions and the topsy turvy t-shirt is one of thirteen turtle designs.
Behrbones Clothing is proud to offer the topsy turvy t-shirts that support, protect, and bring awareness to the Blanding turtle's survival. Our topsy turvy t-shirts will make a statement in a crowd while keeping you comfortable with high-quality material. This item is an excellent gift for you or someone you know that makes light of what seems to be a continual state of confusion, disorder, upside-down, sloppy but funny life.
Behrbones Clothing also offers long-sleeve topsy turvy t-shirts along with a sweatshirt, zip-up, or pullover hoodie upon request. Our goal is to give you an individualized way to make a light-hearted statement or give a gift that captures a unique personality. Browse our collections and see for yourself why many around the world chose our uniquely created designs as a favorite gift. We have custom handmade turvy t-shirts designs to match your lifestyle
Click Here to view all of our turtle t-shirt designs.